CSMP Progress Maps
Status of mapping data acquisition, processing, and GIS product distribution
These maps provide a visual overview of CSMP data collection, post-processing and habitat classification, and data availability via the SFML Data Library or other web portal (i.e Legacy data). More information can be found by contacting the SFML Data Manager at cbretz@csumb.edu.
Map Legend


Data Competed / Available


Legacy Data / Previously Collected & Available


Data Acquired or Currently being Processed


Planned Collection or Survey In-Progress


Not Planned / Not Funded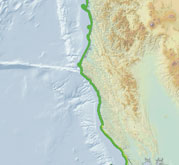 North Coast Status
Oregon border to Tomales Bay
View Map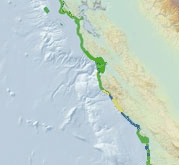 Central Coast Status
San Francisco to Point Conception
View Map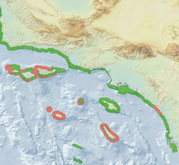 South Coast Status*
Point Conception to Mexico border

View Map

Last updated September 19, 2011

*San Nicolas Island (2012), San Clemente Island (2013), and data gaps between Dana Point and Imperial Beach (2014, Southern California Data Gaps project) have been mapped and processed by SFML.